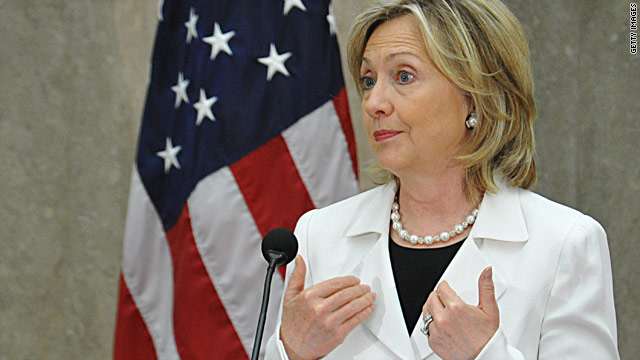 Tuesday Jon tipped me off to a speaking event with Sec. of State Hillary Clinton. I flip-cammed the event but the quality from the Department of State's website is so much better.
Clinton addressed a standing-room only crowd of several hundred during her address at an event co-hosted by the State Department's Office of Civil Rights and GLIFAA, the organization for Gays and Lesbians in Foreign Affairs Agencies.
I overheard one person asking what the take away message of this event was...the headline if you will.
Well, when you have the Secretary of State, who represents the US abroad telling Americans that she is not only rolling out an initiative to stop LGBT discrimination in her office, she's pledging to defend gays abroad, you're telling the WORLD,
on the record
, the United States will not tolerate LGBT discrimination. Back that up with the President's speech that afternoon, reinforcing that message and you have quite a statement on your hands (and CSPAN). What a breakthrough. No other President or SOS has touched that topic in such an official capacity. This is a big deal and in my opinion a step in the right direction. Not perfect, but I'll take it.
As a niece of a lesbian, and best friend to a gay man (not that it matters) I stand behind the Secretary completely. But it is one thing to speak against discrimination and another to continue to legislate for it...ehem...California. Regardless, I couldn't have been prouder Tuesday.
Here is the
Foreign Policy Recap
:
"Human rights are gay rights and gay rights are human rights," Secretary Clinton declared today at a State Department event celebrating LGBT pride month. In her remarks she mentioned that 10 years ago, she was the first First Lady to march in a pride parade, and she went on to say:
This is a human rights issue. Just as I was very proud to say the obvious more than 15 years ago in Beijing that human rights are women's rights and women's rights are human rights, well, let me say today that human rights are gay rights and gay rights are human rights, once and for all.
Clinton also highlighted LGBT-friendly policies that have been enacted during her tenure:
Last year, I received a petition with more than 2,200 signatures supporting equal benefits to same-sex partners [of State Department employees]. And I was delighted that soon after, the President signed an executive order to that effect. This month, the Bureau of Consular Affairs issued new regulations making it easier for transgender Americans to amend their passports, ensuring dignified and fair processing. And today, I'm pleased to announce that for the first time, gender identity will be included along with sexual orientation in the State Department Equal Employee Opportunity Statement.
In her remarks, Clinton said that the State Department's annual Human Rights Report includes a section on how LGBT individuals are treated in every country and mentioned that the Bureau of Democracy, Human Rights, and Labor recently announced a new grant to provide aid to human rights advocates in Africa, the Middle East, and South Asia who are in danger because of their LBGT status or because they work on LGBT issues. The State Department is also working to provide more protection for LGBT refugees who face persecution in their home countries.